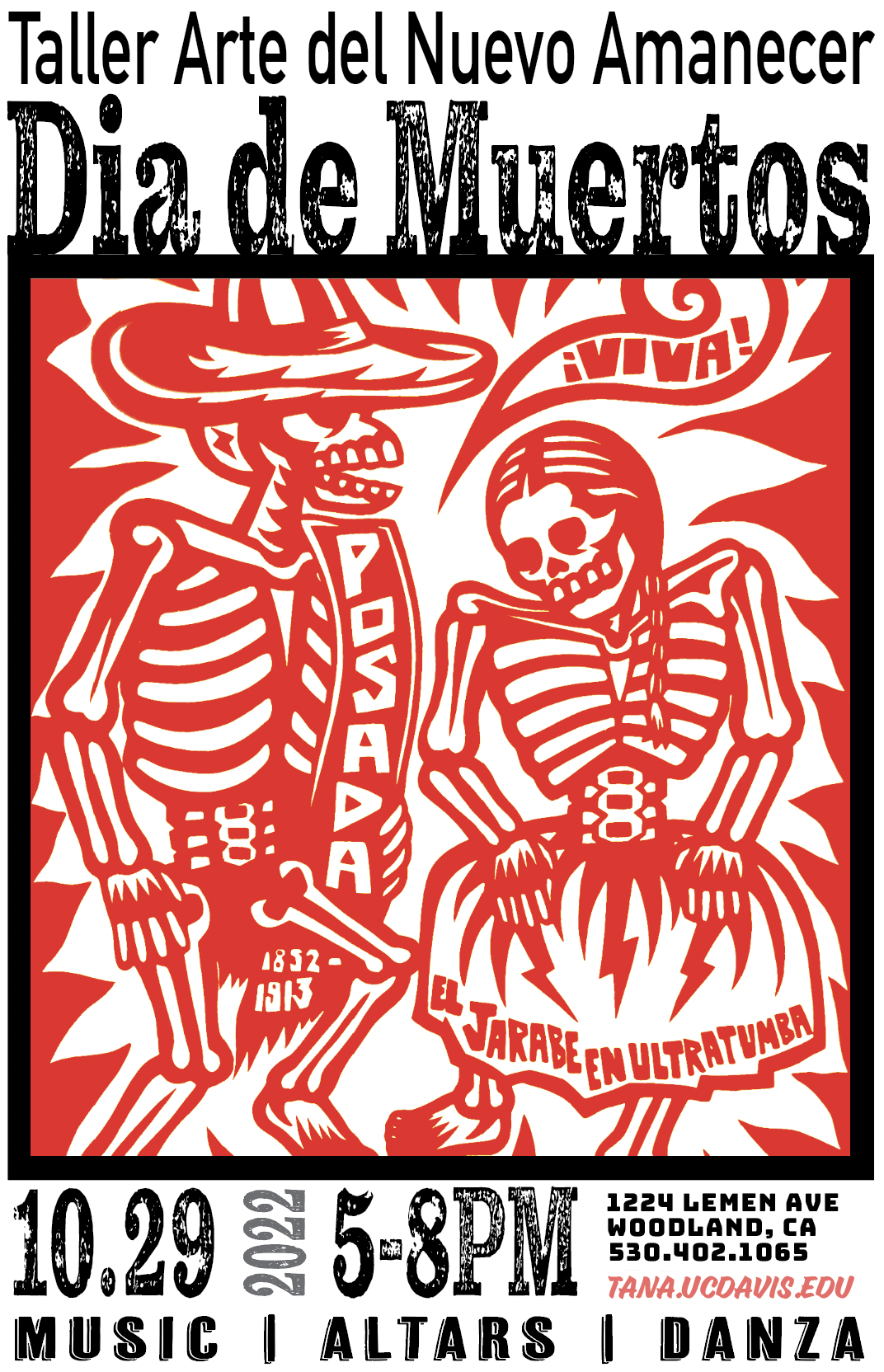 SAVE THE DATE!

Our annual Día de Muertos celebration is one of the highlights of the season, and this year is no exception! Join us Saturday, October 29, from 5 p.m. - 8:00 p.m. at Taller Arte del Nuevo Amanecer. You're invited to celebrate in community with live performances, altars, family activities, face painting, and more. More details coming soon!
---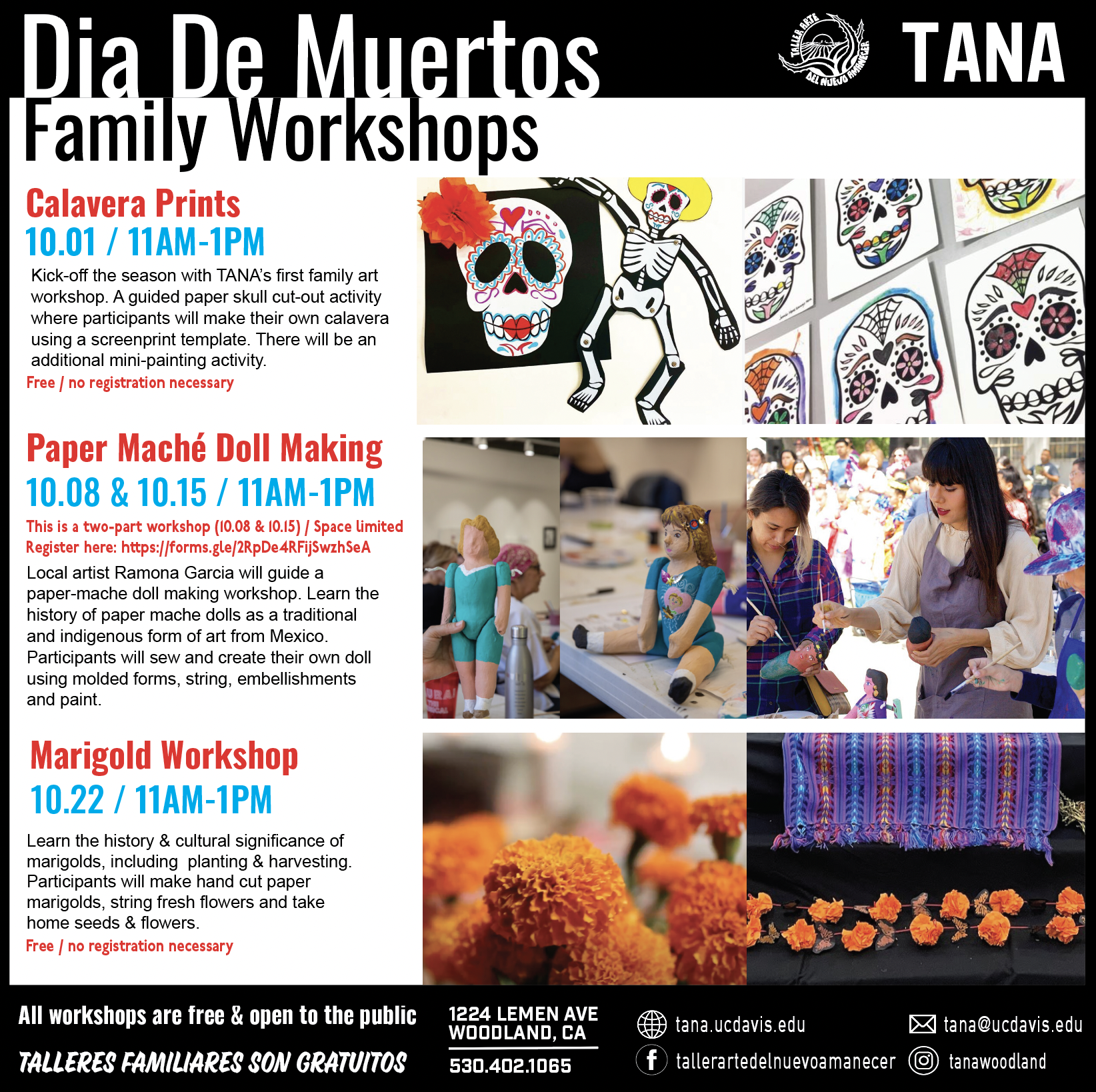 TANA's Dia de Muertos season kicks off Saturday, October 1, 2022 with a month of free family workshops. This year's fun activities include calaca prints, paper maché doll decorating, and marigold flower folding and stringing. Workshops will take place Saturdays throughout October from 11AM- 1PM. Hope to see you there! 
October 1, 11am-1pm:  Calavera Prints & Cut-outs 
Free / no registration necessary 
Kick-off the season with TANA's first family art workshop. A guided paper skull cut-out activity where participants will make their own calavera using a screen-print template. There will be an additional mini-painting activity. 
Comienza la temporada con el primer taller de arte familiar de TANA. Una actividad guiada de recorte de calaveras de papel donde los participantes harán su propia calavera utilizando una plantilla de serigrafía. Habrá una mini actividad adicional de pintura. 
*Gratis / no es necesario registrarse 
October 8 & 15, 11am-1pm: Paper Mache Doll Making (RSVP) 
This is a two-part workshop (10.08 & 10.15) / Space limited, please register here: 
https://forms.gle/viJGqkiK4Cf6MfKq5
Local artist Ramona Garcia will guide a Paper-Mache doll making workshop. Paper-mache is a material that was traditionally used to make dolls and other toys for children during the time of the Mexican Revolution. This unique and fun workshop will engage children in the rich history of paper-mache doll making in Mexico. Participants will also be introduced to storytelling techniques and designs to help them create their own super(s)hero dolls! 
La artista local Ramona García guiará un taller de fabricación de muñecas de papel maché. Conozca la historia de las muñecas de papel maché como una forma de arte tradicional e indígena de México. Los participantes coserán y crearán su propia muñeca utilizando formas moldeadas, cuerdas, adornos y pintura. 
*Este es un taller de 2 partes (10.08 y 10.15) / Espacio limitado / Regístrate aquí: 
https://forms.gle/viJGqkiK4Cf6MfKq5
Artist Website HERE
*Sponsored by Imagining America

"The paper-mache doll is a distinctive traditional craft that became the dear play object and companion for many children in Central Mexico. Today, this tradition is struggling to survive, being kept alive only in the workshops of the few artisans who continue to produce paper-mache dolls, not for monetary gain but for the continuity of this beautiful art. In this single day workshop, you will sew and create your own doll using molded forms, string, embellishments and paint. You will also learn about the history of the paper mache doll as a traditional and indigenous form of art from Mexico as well as its use with practices of art therapy." 
-Ramona Garcia 
October 22, 11am-1pm: Marigold Workshop 
Free / no registration necessary 
Learn the history & cultural significance of marigolds, including planting & harvesting. Participants will make hand cut paper marigolds, string fresh flowers and take home seeds & flowers. 
Conozca la historia y el significado cultural de las caléndulas, incluida la siembra y la cosecha. Los participantes harán caléndulas de papel cortadas a mano, ensartarán flores frescas y se llevarán a casa semillas y flores. 
*Gratis / no es necesario registrarse