About
---
Taller Arte del Nuevo Amanecer (TANA) is a collaborative partnership between the Chicana/o Studies Program at the University of California, Davis and the greater Woodland community. TANA offers a fully functioning silkscreen studio, Chicano/Latino Arts exhibition space, and a teaching center for the arts. Through exhibiting, printing, and teaching, TANA cultivates the cultural and artistic life of the community, viewing the arts as essential to a community's development and well-being.
The Chicana/o Studies Department at the University of California, Davis has a history of scholarship and promotion of community health and empowerment. TANA is a continuation of this history, developing an authentic and organic link between UC Davis and the greater Woodland community. The City of Woodland is the most natural partner for the community-based arts instruction and scholarship offered through Chicana/o Studies at UC Davis. The human resources from the community of Woodland and institutional resources from UC Davis will collectively promote the role of art and culture as a viable community-building strategy.
There are four primary elements to TANA:  Gallery and Exhibition Space, Taller Classes and Community Arts Workshop, Art and Graphic Design Services, and The Atelier. 
Contact Information
---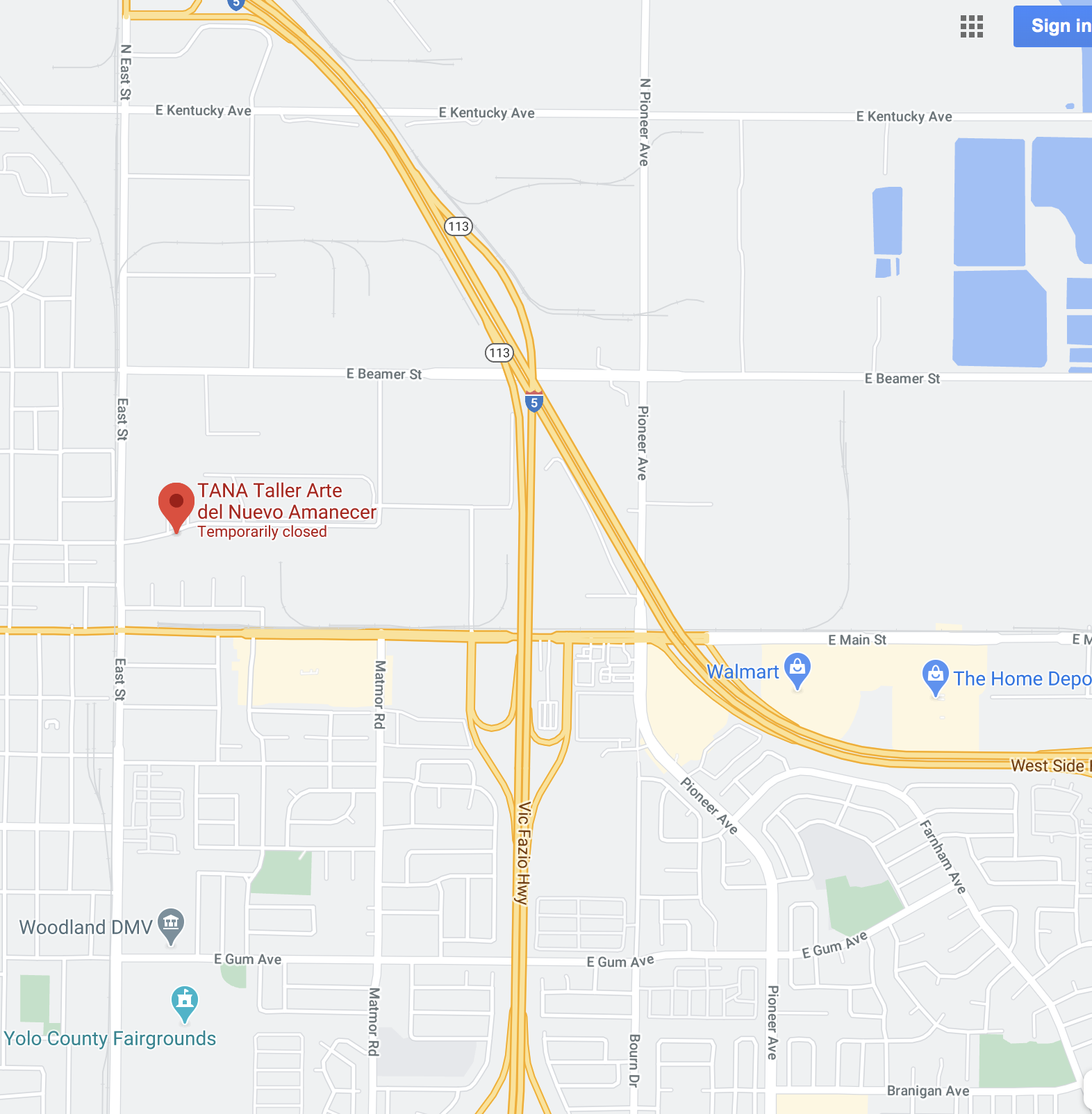 1224 Lemen Ave.  Woodland, CA 95776
Contact Us:
Contact Us: Email:  tana@ucdavis.edu
Telephone: 530-402-1065   
Workshop Hours:
Tuesday - Thursday: 2:00am - 6:00pm
Saturday 11a.m. - 4p.m. 
Gallery Hours:
Tuesday - Friday: 9:00am - 6:00pm, or by appointment. 
For up-to-date information regarding upcoming events, our quarterly workshop schedule, or gallery visiting hours please visit our calendar above or follow us on social media!
Subscribe:
Click below to sign up with your email address to receive news and updates from TANA

People
---
Carlos Francisco Jackson / TANA Co-founder
Carlos Francisco Jackson is Co-founder of TANA. A former Professor in the Chicana/o Studies Department at UC Davis, he now serves as dean of the Penny W. Stamps School of Art & Design. A visual artist and writer, Jackson was born and raised in Los Angeles, California. He attended UC Davis where he received his Bachelor of Science in Community and Regional Development and an MFA in Painting where he received the Robert Arneson Award for Excellence. In 2002, he was awarded a full fellowship to attend the prestigious Skowhegan School of Painting and Sculpture in central Maine. For the 2003-2004 year, he held the David Shainberg Endowed Fellowship at the Fine Arts Work Center in Provincetown, MA. In 2009, the University of Arizona Press published his first book, ProtestArte: Chicana and Chicano Art, a survey of the Chicano Art Movement.
---
Malaquias Montoya / TANA Co-founder
A UC Davis Professor Emeritus, Malaquias Montoya is credited by historians as one of the founders of the social serigraphy movement in the San Francisco Bay Area in the mid-1960s. He has lectured and taught at numerous colleges and universities including Stanford, UC Berkeley, the California College of Art, the University of Notre Dame, and the University of Texas, San Antonio. Montoya's unique visual expression is an art of protest, depicting the resistance and strength of humanity in the face of injustice and the necessity to unite behind that struggle. In 2010, the UCLA Chicano Studies Research Center published a full-length monograph about Montoya and his work.
---
José A. Arenas / Director
Jose Arenas received a BFA in Painting from the San Francisco Art Institute (1995), and an MFA from UC Davis (2000). His work has been exhibited throughout the United States, including Chicago, Miami, and New York City. Recent solo and group exhibitions include "A Place in Mind, Pence Gallery, Davis, CA; "Wayfinder", Taller Arte del Nuevo Amanecer, Woodland, CA; and "Sojourn", SBCC, Albuquerque NM. Jose has devoted the last 18 years to higher education, designing and teaching  studio art courses at Foothill College, Los Altos Hills, CA; Parsons School of Design, Manhattan, NY; and Kingsborough Community College, Brooklyn, NY. He currently teaches the Chicana/o Mural Workshop in the Department of Chicana/o Studies at UC Davis. 
---
Eddie Lampkin / Workshop Coordinator
Eddie Lampkin manages TANA's workshop programming, archiving, and additionally facilitates edition projects and community events. Eddie is a Woodland based artist whom at an early age participated in the silk screen workshops at TANA. After transferring to UC Davis, he served as a teaching assistant under Carlos Jackson in his Chicano studies printmaking course while interning at TANA and teaching local youth. Throughout his academic career Eddie has continued to make politically engaged posters in response to social movements that combat oppressive structures and policies put in place both locally and nationally, and in solidarity with global movements. 
---
Maceo Montoya  / TANA Affiliated Faculty
An associate professor in the UC Davis Chicana/o Studies Department, Maceo Montoya has served as a TANA affiliated faculty member since his hire in 2011. He served as TANA's  director from 2015 to 2017. A visual artist and writer, he helps coordinate TANA's visiting artist program, exhibitions and events, and reading series. On campus, he teaches various courses in Chicano Literature.
---
Jaime Montiel / Artist in Residence
Jaime Montiel is TANA's first Artist-in-Residence. He has helped develop special art projects in addition to instructing participants in the quarterly community silkscreen workshops. Montiel grew up in Winters, California where he currently resides and maintains his studio. He graduated from UC Davis with a BA in Studio Art and received his MFA in Painting from the Savannah College of Art and Design.
---
UC Davis Student Interns
Student interns offer support in all areas of programming. They are a key and essential part of TANA's mission to connect the local community with the university. 
Giovanni Rodriguez Nunez
Jennifer Ramirez Espinola
Marco Perez Hernandez
History
---
Formerly a maintenance storage facility, TANA is housed in a 3600 sq. ft. warehouse revamped and fitted to the needs of a working silkscreen taller. Complete with a dark room, washout area, gallery, and workspace, TANA accommodates numerous creative projects, ranging from first time workshop participants to experienced professional artists. TANA operates on a philosophy that one's creative practice extends to every aspect of the creative process. From workshop tables, light tables, shelves, to frames for exhibitions, much of our infrastructure was built from scratch. Here are some photos of TANA's transformation from an empty warehouse to a fully functioning taller.