---
Taller Arte del Nuevo Amanecer (TANA) is a collaborative partnership between the Chicana/o Studies Program at the University of California, Davis and the greater Woodland community. TANA offers a fully functioning silkscreen studio, Chicano/Latino Arts exhibition space, and a teaching center for the arts. Through exhibiting, printing, and teaching, TANA cultivates the cultural and artistic life of the community, viewing the arts as essential to a community's development and well-being.
The Chicana/o Studies Department at the University of California, Davis has a history of scholarship and promotion of community health and empowerment. TANA is a continuation of this history, developing an authentic and organic link between UC Davis and the greater Woodland community. The City of Woodland is the most natural partner for the community-based arts instruction and scholarship offered through Chicana/o Studies at UC Davis. The human resources from the community of Woodland and institutional resources from UC Davis will collectively promote the role of art and culture as a viable community-building strategy.
There are four primary elements to TANA:  Gallery and Exhibition Space, Taller Classes and Community Arts Workshop, Art and Graphic Design Services, and The Atelier. 

---
Sign up with your email address to receive news and updates from TANA

Address
1224 Lemen Ave.  Woodland, CA 95776
We are located a few blocks from downtown Woodland, CA, just 15 mts. from Davis & 25 mts. from Sacramento.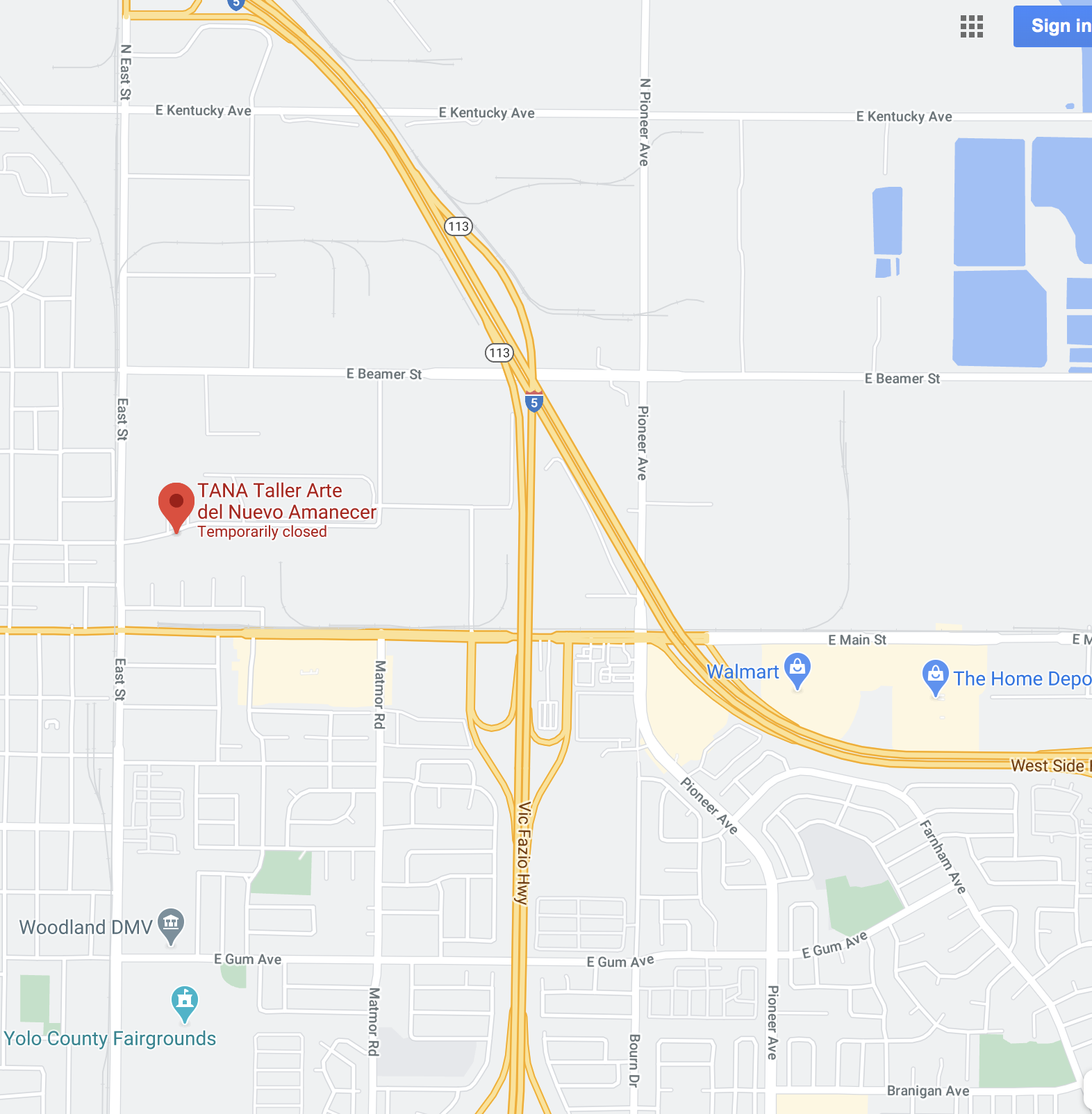 Contact Us
General Information: tana@ucdavis.edu
Telephone: 530-402-1065   
Hours
Please note we are currently closed to the public due to COVID-19. 
Office Hours:
Tuesday - Friday: 9:00am - 6:00pm
Gallery Hours:
Tuesday - Friday: 9:00am - 6:00pm, or by appointment. 
For up-to-date information regarding upcoming events, our quarterly workshop schedule, or gallery visiting hours please visit our calendar above or follow us on social media!